Sign up now to receive these FREE recordings and to be notified about our next Resilience and Renewal in Your Third Act series:
Press Play: Menopause and Sexuality with Pamela Madsen
Inner Secrets of Money That Work In Challenging Times with Sarah McCrum
Featured Speakers:
(click photo to learn more)

Lynne Twist

Sandra Ingerman, MA

Yeye Luisah Teish

Dr. Judith Kravitz

Anodea Judith, PhD

Sharon Salzberg

Dr. Carol Orsborn

Pamela Madsen

Cynthia James

Dr. Katie Hendricks

Dr. Lakisha Jenkins

Katherine Woodward Thomas

Jean Shinoda Bolen, MD

Bernadette Pleasant

Miranda Macpherson

Angela Farmer

Sarah McCrum

Dr. Clare Johnson

Dr. Andrea D. Sullivan

Lisa Barnett

Jana Long, C-IAYT, ERYT 500

Kenlyn Kolleen

Patricia Albere

Debra Giusti

Lisa Wimberger

Gladys Taylor McGarey, MD, MD (H)

Valencia Ray, M.D.

Ashanna Solaris

Zoe Alowan Kauth

Vickie Dodd

Julie Jilani Esterly

Clare Dubois

Deborah Price

Kaia Ra

Lisa Betts-LaCroix

Dr. Jacqueline Susanna Chan
With Host: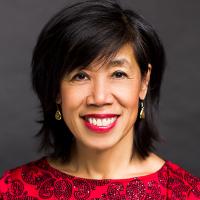 Sabrina Chaw
CEO, A Feminine Feast
Do you have a clear and inspiring vision for your life in the coming months and years?
As a woman over 50, are you ready to go beyond merely enduring a "new normal," and bring the full force of your power, grace, and inner strength to full bloom for the next chapter of your life?
At such an unusual and historic time, it may seem self-centered to ask how you're fine-tuning your unique gifts and purpose in this life — yet, to be a voice of wisdom as the world begins to re-open... and an advocate for a transformed, healthier planet when we reemerge… this inquiry is essential!
Being a wise woman with an abundance of life experience, now may be a perfect time to gather your wealth of insights and share this richness with others.
Imagine invoking the graceful and formidable "steel magnolia" within... while simultaneously honoring the grief, vulnerability, and moments of anxiety about the future.
You might wonder exactly how you'll rise and regenerate yourself as we all gear up for a gradual exit from this period of pause and containment.
Why not use this pivotal period to your advantage — reimagining and generating the most empowered version of yourself and your life?
During this catalytic time, when many fear for their health and safety... caring for your wellbeing is a top priority, and nourishing your dreams can feel like a revolutionary act.
Resilience & Renewal in Your Third Act is here to equip and empower you to live fully in the face of upheaval and uncertainty.
This series offers you a path into whatever your next committed endeavor may be and whatever impact you choose to make — with profound insights, tools, tips, and practices that will help you manifest your highest potential!
When you attend this highly anticipated returning series (at no charge), you'll glean inspiration from daring and grace-filled leaders… and face the future with confidence and renewed vigor.
Here's some of what our brilliant speakers will be sharing with you…
| | |
| --- | --- |
| | Drawing from her upcoming book, Real Change, Sharon Salzberg shares indispensable techniques for engaging in challenging times with clarity, calm, and heartfulness. |
| | Judith Kravitz will share how your breath tells a story and how changing your breath changes your life, as she offers a powerful breathing exercise to strengthen your immune system. |
| | Discover how to let go of scarcity as we re-enter the world, and embody sufficiency in all aspects of your life, with Lynne Twist. |
| | Regenerate your enthusiasm, creativity, and love of life with Cynthia James, who'll assist your search for inspiration in even the most mundane places. |
| | With Katie Hendricks, you'll explore body intelligence practices that can assist you in moving from fear and contraction to presence and connection — and create a blame-free zone in your relationship and home. |
| | Harvesting over 40 years of yoga, meditation, therapy, and purposeful living, Anodea Judith will guide you into a new era of empowerment and joy... using the chakra system as a template for wholeness. |
| | Joyously stand in the "third trimester of your life" with Yeye Teish, as she inspires you to feel into your legacy — the contribution you've made that will exist beyond your own lifetime. |
| | Stir up the best kind of trouble as saucy Pamela Madsen demonstrates how to reactivate your sex life in alignment with your specific rhythms, energy, heart, and needs. |
| | Engender deep resilience that goes beyond this lifetime and into other dimensions with Sandra Ingerman. |
| | Dr. Carol Orsborn will share practical tips on utilizing discernment and using this liminal time in surprisingly fulfilling ways — to create a bright future for yourself. |
| | |
| | And much more! |
It's a New Dawn, a New Day...
As a "saging woman" in her 50s, 60s, and beyond, you can become the beacon others look to for inspiration, wisdom, and guidance.
The bold leaders speaking in the Resilience & Renewal in Your Third Act series will touch on many colorful themes — particularly what makes life fruitful and fulfilling! Join this convergence of women committed to learning from prior generations... and, in turn, bless the women of generations yet to come.
In this groundbreaking series, you'll discover:
How to ensure the best sleep for your body so you can fully rejuvenate and regenerate each day
Gems of wisdom from two celebrated pioneers — ages 81 and 100 — about aging into liberation and joy by befriending your body as your ally, and wisdom as your core
Ways to access your fierceness in the face of loss, so you can mobilize the resources you have for accomplishing new dreams and goals
The gumption to defy critical inner voices about getting older and claim your age — whether you're single, in an unsatisfying relationship, finding a new career, learning new things, or wanting to reinvent your life
That grace is a direct experience of the Divine Presence awakening within you — reconnecting you to the source of real love, peace, clarity, strength, and joy
How to deconstruct your money story so you can live in peaceful, fearless creation with money as your ally
Renewed vigor and delight in your body's capacity for pleasure and regeneration at all ages
How to transform your relationship with mistakes and view them as a path to wisdom and humility
Ways to fully allow the grieving process, so joy can re-enter your life
How to work with dreams and nightmares — and transform fears and anxieties through lucid awareness practices
The blueprint to create a soul family and tribe that will support, empower, and love you for who you are
How to "live in completion" day to day so your engagement with yourself and others is open to discovery rather than contraction
How to step into your leadership role within a new paradigm of being on Earth, honoring your relations, and living in harmony with all beings
And much more...
You'll be in great hands with celebrated host Sabrina Chaw — whose mission is to passionately guide women like you to unleash their vibrancy... bringing out their courage, mojo, and power... and liberating them to share the innate gifts they yearn to express!
Here's what participants had to say about our previous Third Act summits…
"I am in tears just thinking about how this summit impacted me. It saved my life!"
It helped me open to new remedies and wellness practices that I wouldn't have been able to access in a lifetime. The mental assistance for dealing with anxiety and perfectionism also showed me so much.
— Heidi Lane, San Antonio, Texas
"A great investment of your time!"
Thriving in Your Third Act gives you the chance to see how the needs of the body, mind, and spirit change as we age.
— Bobbi Smithe, Massachusetts
"So helpful as I enter my 60s... to reframe and go forward into the greatest time of my life."
I really loved what was offered. Thank you so much!
— Myrrh de Marmion, Asheville, North Carolina
"The whole experience was centering, grounding."
There was so much information and inspiration from many wisdom traditions — from natural physical health to emotional and spiritual wellbeing. A great mix. I consider it to be a starting point of connecting in one way or another to some of these fierce women and their practices.
— Renate Burgess, Oak Park, Illinois
"[Sabrina Chaw is] an amazing pearl full of wisdom..."
I loved listening to Sabrina. Her time with the women was seamless and inspiring. I particularly soaked up the teachings from the Indigenous elders. I love hearing the stories of their culture. Thank you so much, Shift Network!
— Julia, Australia
Co-Sponsors