Thank You for Registering!
The live event is over. However, we've sent you two recordings from this amazing series — for FREE! Check your inbox for details!
PLUS, here's a Special Offer for You…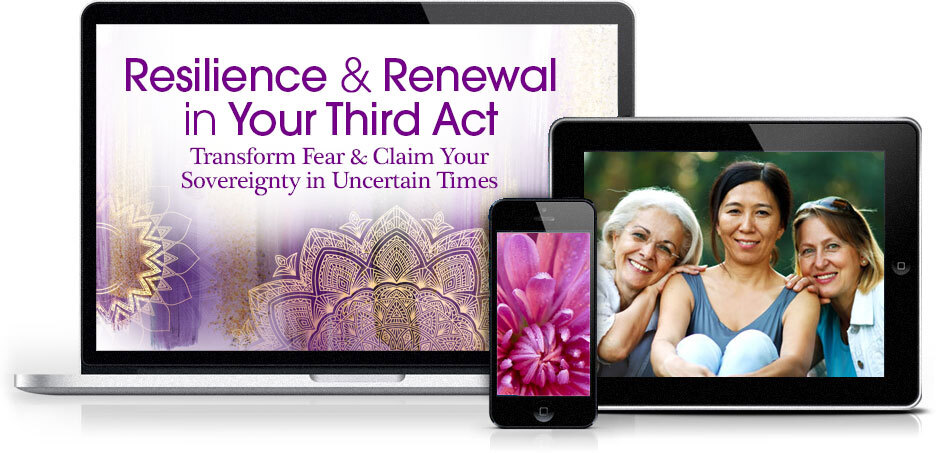 Here's What You'll Receive:
Third Act Wisdom Collection 2020
The Third Act Wisdom Collection 2020 includes lifetime access to every recording and transcript from each session of The Resilience & Renewal in Your Third Act series:
Video Recordings of EVERY session in the 2020 Resilience & Renewal in Your Third Act series — watch on any connected device

Audio Recordings of EVERY session in the 2020 Resilience & Renewal in Your Third Act series — listen on any connected device

PDF Transcripts of each session — to refer back to, follow directions, take notes, highlight, and search for keywords

PLUS an abundant collection of TWELVE enriching bonuses — including video and audio recordings, ebooks, and a lovingly curated 4-module course, Aging into Awakening, with the late Ram Dass
Unleash Your Creative Resources in This Time of Global Change
Have you experienced recent transitions, losses, or new opportunities?
While the world undergoes major transformation on multiple levels, you also have the opportunity to refresh your own sense of purpose, and design individual and collective pathways toward a more functional and compassionate world.
Your presence as a wise woman over 50 is required at this pivotal moment in history!
As a creatrix in your most rich and ripened season of life, it's time to reap the rewards of all the hard-earned lessons from your earlier years, and discover your soul's next steps to fulfillment and purpose in the midst of unprecedented global change.
Whether it's practical tips for optimal sleep and hormone health, or expert advice for recession-proofing your finances, the Third Act Wisdom Collection 2020 is replete with fortifying, nourishing, and down-to-earth guidance... tailor-made for this unique season of your life.
Each session in this life-enhancing series offers you not only a fresh perspective on how to navigate these times of great change... it also beckons you to embody the sovereign queen within you.
You'll be encouraged to contribute to the shared strength of women all across the world — women who know they're unstoppable and are ready to receive guidance as they vision what's next for their lives.
This world-class suite of ALL the sessions from the Resilience & Renewal in Your Third Act series (plus an array of salient bonus offerings), is designed to support you in creating the life of your dreams... even while sitting in this liminal space of uncertainty.
If you're ready to reinvigorate your purpose... bring your relationships and physical health to the next level… and prepare for greater financial health... the Third Act Wisdom Collection 2020 is here to empower you in all these areas, and more!
PLUS you'll receive INSTANT ACCESS to these BONUSES when you act NOW:

Welcome Message From Your Series Host


Thank you for registering. This is Sabrina Chaw, your host for the Resilience & Renewal in Your Third Act series.

I'm so glad you will be joining us for an amazing group of wisdom-keepers, who will empower you in these challenging times, and support you in re-imagining and manifesting your life beyond it.

You need not look much further than this series, which will provide you with many of the topics you are exploring, at this time of your life, at this time in the world.
You will be in the company of great women, such as Miranda Macpherson, Yeye Teish, Sandra Ingerman, Cynthia James, Carol Orsborn, and so many more. All the speakers have lived their lives of loss and celebration, walked their talk, and are here to walk with you as sisters on an inspired path. They are not here to merely help you stitch your pre-lockdown past to your post-lockdown present. They are here to weave your envisioned present into your future.
I look forward to walking this path with you. We'll see you there.
Taking Flight in Your Third Act
A Journey of Initiation into Your Sovereignty, Feminine Wisdom & Freedom With Sabrina Chaw
In Taking Flight in Your Third Act, Sabrina will guide you through a journey of initiation to your most profound power, wisdom, and freedom. You'll enter the five transformative gateways that time calls you to face — in order to live a legacy.
This 8-week initiation is about stepping boldly and purposefully into your authentic self, confident in your capacity to pursue what you've always longed to do...
You'll learn ways to:
Explore vitalizing somatic practices to cultivate your energy post-menopause
Teach your body to release fear and doubt as you take in fresh, new confidence in your power to manifest
Reframe and redefine aging so you can EMBRACE the next phase of your life boldly and eagerly
Fully experience practical teachings, ceremonies, and meditations to step into your eldership in an energetic and vibrant way
Aging Into Awakening
A 4-Module Course With Ram Dass
In the 4-module Aging Into Awakening program, Ram Dass lights the way to transforming the heaviness that can come with the journey of aging, helping you establish a baseline of expanded lightness of being and joy.
Ram Dass' team has curated some of his most important teachings, videos, and reflections for this program to ensure you'll receive the essential teachings and practices you'll need to make your own shift.
After each module, one of these beloved allies from the team applies their decades of experience with Ram Dass to answer intriguing questions posed by former students.
Over the course of the four modules, you'll:
Understand how to graciously welcome the changes that occur as you age, even those that seem impossible to embrace
See how the Eastern concept of aging embraces these changes, and defines the roles of elders more clearly
Release unnecessary suffering by becoming more mindful and aware of exactly what's happening, which opens you to direct experience rather than your mental interpretation
Break free of the patterns of attraction and aversion that keep us caught in separateness

Relaxing Into the Ground of Grace: A Meditation Practice
Audio Meditation From Miranda Macpherson
This 15-minute meditation offers you a true vacation from the unnecessary stress and struggle of your ego, welcoming you to relax any patterns of fear, control, or tension in your life. Miranda's words and transmission take you by the hand and draw you into the present, bringing you home into the felt recognition that you are always IN and are PART of the deepest love and support imaginable. Grounded in grace, you can emerge back into your day spiritually refreshed, peaceful, and capable of radiating your love and wisdom deeper into our world.
The Global Heart Awakens
Ebook by Anodea Judith
The Global Heart Awakens is an award-winning book that speaks to the challenges of our time with a big-picture perspective. In this dynamic historical journey through cultural evolution, you'll explore the relationship of masculine and feminine influences in each era of history. Every historical epoch Anodea covers is also mapped onto developmental stages of childhood and the yogic system of the seven primary chakras — creating a comprehensive and holistic look at who we are, how we got here, and where we're going.

Text Talk Terrorist
Video Story by Yeye Teish
Enjoy masterful storyteller Yeye Teish as she weaves a spellbinding modern story of a college professor who's been reviewing her life and thinking of retiring. Teaching at this college requires her to use technology that she doesn't quite understand. When a threatening situation arises, she is forced to count on her past experience to save her own life and that of another teacher.
Reclaim Past Life Wisdom
Audio Meditation From Lisa Barnett
Reclaim past wisdom from your Akashic records. You are a wise and ancient soul with hundreds of lifetimes filled with life experiences and useful knowledge. This guided visualization will help you reclaim your gifts and talents from other lifetimes to support you in creating your best life now, as you move into your third act.
Creative Union: A Pillar of Awakening Mutuality (Virtual Retreat)
Audio Teaching From Patricia Albere
Creative Union: A Pillar of Awakened Mutuality guides you through a 2-part virtual retreat with Patricia Albere, who'll introduce you to the foundation of the Mutual Awakening practice. This sacred intimacy practice calls us into a shared space of awakened consciousness, a place where insight and revelation spontaneously open. The opening that results — created and held between us — becomes a portal for the source of creativity to emerge, bringing a continuous mystical awakening. From this heightened state, through our sustained attention on love and kindness, we enter a realm of ultimate meaning and creative union where we can express our full uniqueness and discover a way of being that only arises when we become "one."
Befriending Death & Loss: A Heart-Powered Meditation Practice
Audio Meditation From Julie Esterly
In this gentle yet powerful 25-minute meditation, Julie Jilani Esterly guides you to calm your nervous system as you meet the reality of loss and death. She creates a safe environment for holding space for the tender feelings of grief and fear of loss. By bringing your breath, awareness, and presence to the heart center, locked energy is transformed into potency and love. The resulting vitality will be a sustaining force as you meet the challenges of our world and your precious human life. Within this meditation, Sufi teacher Samuel Lewis quotes a beautiful initiatory poem by Edna St. Vincent Millay: "The world stands out on either side, no wider than the heart is wide."
Embracing the Sacred Feminine
Audio Meditations From Ashanna Solaris
These incredible guided meditations support women to heal, transform, and awaken at the deepest levels! The first meditation, Woman's Healing Journey, connects us with the sacred feminine and Gaia for healing of our feminine body temple, heart, and soul. The second one, Priestess Initiation, is a profound journey to the stars, to connect with and reclaim our spiritual birthright as women, priestesses, and healers.
Simply the best meditation album I have ever used! It is a gift to the universe. What an amazing healing for me and the whole planet. You are healing the whole universe with this one recording.
— Jeri Lawson, Massage Therapist/Healer
Best.Life.Possible
Ebook by Carol Orsborn
Would you like to live your best life possible even in the age of coronavirus? If you're feeling isolated, vulnerable, or powerless, read on. The developmental stages outlined in this ebook that you've already mastered may speak to you personally. Then you'll get a sneak peak of what's on the next page of your journey to wholeness.
The psycho-spiritual life stages examined in this book are sequential, but with the exception of birth, they can unfold at any pace or age. However efficient or involved your journey may be, honor yourself for having gotten this far, hold the entirety of your life as lightly and lovingly as possible, and trust in the unfolding promise the future holds for us all.
Receiving the Breath and Body
Guided audio journey with Angela Farmer
In this 40 minute savasana, Angela Farmer invites you to drop down into deep rest and relaxation. She'll guide you to listen to and communicate with the breath and body, release tension, and allow more comfort, space and freedom.
Includes Tibetan bowl music by Obertunhaus.de.
You'll receive ALL these bonuses PLUS unlimited access to audio and video recordings and transcripts of every single series session — giving you sustenance and inspiration for a generative and creative life at this (or any) stage in your life.
Call in Joy, Courage, and Replenishment as You Vision Your Future (and Present!)
While we contemplate our "new normal" on the global level, perhaps you're wondering what's next for you — and exploring how your purpose is changing during this unusual time on earth.
The "third act" of life is considered by developmental psychologists to be the most generative phase of life, contrary to mainstream notions of decline or obsolescence. Why not use this moment of worldwide transition to re-engage with your inventive powers, stepping beyond fear and into creativity?
The Third Act Wisdom Collection 2020 amply prepares you to rise from the ashes of the past and nourish your heart and soul for clear and courageous action.
This custom library of impassioned, heartfelt interviews with speakers from all walks of life — along with an abundant collection of bonus offerings — encompasses actionable, practical tools you can start using immediately.
Here's a sample of what you'll receive from the luminary speakers in this series...
| | |
| --- | --- |
| | Drawing from her upcoming book, Real Change, Sharon Salzberg shares indispensable techniques for engaging in challenging times with clarity, calm, and heartfulness. |
| | Judith Kravitz will share how your breath tells a story and how changing your breath changes your life, as she offers a powerful breathing exercise to strengthen your immune system. |
| | Join Lynne Twist in reclaiming your purpose and sharing your wisdom and vision with your community, as society slowly reemerges from lockdown. |
| | Regenerate your enthusiasm, creativity, and love of life with Cynthia James, who'll assist your search for inspiration in even the most mundane places. |
| | With Katie Hendricks, you'll explore body intelligence practices that can assist you in moving from fear and contraction to presence and connection — and create a blame-free zone in your relationship and home. |
| | Harvesting over 40 years of yoga, meditation, therapy, and purposeful living, Anodea Judith will guide you into a new era of empowerment and joy... using the chakra system as a template for wholeness. |
| | Joyously stand in the "third trimester of your life" with Yeye Teish, as she inspires you to feel into your legacy — the contribution you've made that will exist beyond your own lifetime. |
| | Stir up the best kind of trouble as saucy Pamela Madsen demonstrates how to reactivate your sex life in alignment with your specific rhythms, energy, heart, and needs. |
| | Engender deep resilience that goes beyond this lifetime and into other dimensions with Sandra Ingerman. |
| | Dr. Carol Orsborn will share practical tips on utilizing discernment and using this liminal time in surprisingly fulfilling ways — to create a bright future for yourself. |
| | And much more! |
With this invaluable library of timeless transmissions, you'll discover:
How to ensure the best sleep for your body so you can fully rejuvenate and regenerate each day
Gems of wisdom from two celebrated pioneers — ages 81 and 100 — about aging into liberation and joy by befriending your body as your ally, and wisdom as your core
Ways to access your fierceness in the face of loss, so you can mobilize the resources you have for accomplishing new dreams and goals
The gumption to defy critical inner voices about getting older and claim your age — whether you're single, in an unsatisfying relationship, finding a new career, learning new things, or wanting to reinvent your life
That grace is a direct experience of the Divine Presence awakening within you — reconnecting you to the source of real love, peace, clarity, strength, and joy
How to deconstruct your money story so you can live in peaceful, fearless creation with money as your ally
Renewed vigor and delight in your body's capacity for pleasure and regeneration at all ages
How to transform your relationship with mistakes and view them as a path to wisdom and humility
Ways to fully allow the grieving process, so joy can re-enter your life
How to work with dreams and nightmares — and transform fears and anxieties through lucid awareness practices
The blueprint to create a soul family and tribe that will support, empower, and love you for who you are
How to "live in completion" day to day so your engagement with yourself and others is open to discovery rather than contraction
How to step into your leadership role within a new paradigm of being on Earth, honoring your relations, and living in harmony with all beings
And much more...
It's time for you to embrace your unique gifts and launch them into action in a way that activates your joy and power — and expands your capacity to create positive change in today's world.
With the Third Act Wisdom Collection 2020, you'll own the teachings, profound insights, and practical tools to support your continued growth and connection with your true self — and map a pathway to renewal, wellbeing, and purpose.
Here's What You'll Receive: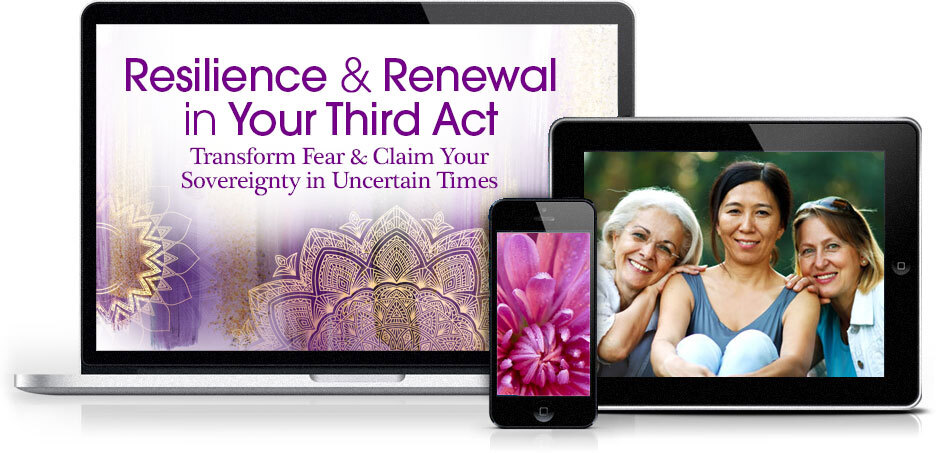 Third Act Wisdom Collection 2020
This package gives you the opportunity to receive INSTANT and lifetime access to:
Video Recordings of EVERY session in the 2020 Resilience & Renewal in Your Third Act series — watch on any connected device.

Audio Recordings of EVERY session in the 2020 Resilience & Renewal in Your Third Act series — listen on any connected device.

PDF Transcripts of each session — to refer back to, follow directions, take notes, highlight, and search for keywords

PLUS an abundant collection of TWELVE enriching bonuses — including video and audio recordings, ebooks, and a lovingly curated 4-module course, Aging into Awakening, with the late Ram Dass
OUR 100% GUARANTEE MEANS NO RISK TO YOU!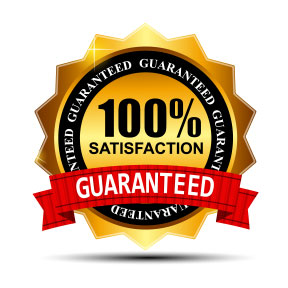 When you upgrade today, your purchase is backed by our complete money-back guarantee. If for any reason at any time within 60 days you decide Third Act Wisdom Collection 2020 is NOT right for you, just visit our Customer Service Center and request a refund. We'll cheerfully refund your payment in full within five business days.
Upgrade Now